*This information is subject to change as we continue to update our website for the 2023 New Deal Festival.
2023 Artisans & Authors
Artisans
Denise Baylor (Fields Creek Creations) Fields Creek Creations creates beautiful wooden pieces that represent the beauty of West Virginia.
Aldona Bird (Made in the Mountains) Aldona Bird makes whimsical pieces of stained glass including small animals and earrings that are sure to brighten your day!
Adam Brashear (Erstwhile Leathers) Adam Brashear of Erstwhile Leathers is based in Terra Alta and creates a variety of high-quality leather goods from purses to belts. Stop by to shop some of these wonderful handmade items!
Jackie Clarkson (Jackie's Useables) weaves and crochets household helps. Jackie enjoys spending time making products for you to enjoy using in your home.
Doug Debastiani creates homemade pottery that will become a talking piece in your home or a wonderful gift for a friend.
Cindy Dineley Arthurdale resident Cindy Dineley makes crochet animals, shawls, scarves, hats, and more! Her animals are popular items in our Arthurdale Heritage craft shop – especially the goats!
Melva Gillespie (The Horn and Antler Shop) creates delicate earrings from horn and antler pieces as well as other artwork.
Kevin Kauffman (Kevin Kauffman Pottery) Kevin Kauffman makes hand-built and wheel-thrown pottery in Morgantown, WV and is popular for his beautiful glazing.
Elaine Klar (Pleasant Nonsense Studios) of Weirton, WV makes "art for the heart." Her ceramics are as fun and carefree as they are beautifully and skillfully made.
Tammy Light (Lighthouse Stitches) Tammy Light creates an assortment of items for your home from dish cloths to scrubbies, towels, and hair scrunchies!
Tammy Linn (Once Upon a Craft) has tie dye items, upcycled clothing, tumblers, earrings, stickers and much more! Find a unique craft at Tammy's booth!
Joe Mullenax (The Green Cap Forge) is a talented blacksmith with many incredible items that will elevate your home or create a wonderful and unique gift.
David Shahan (Me & My Bees) Located in Kingwood, David Shahan sells honey and honey candy, along with lip balm, lotion, and lovely tea cup birdfeeders!
Mike Strawser (Caddell Mountain Rustic Woodworks) Located in Terra Alta, Mike Strawser creates a variety of wooden items from bowls to snowmen. Mike often works with burls that he cuts from trees and shapes into beautiful wooden objects.
Kelly (Street) Nedrow (Delta Stained Glass Studio) Kelly has been making stained glass for 10 years and opened Delta Stained Glass Studio in 2021. She is located in the old West Preston School in Masontown and offers classes yearround.
Sow Good Farms A small family business, Sow Good Farms has all your country needs (and wants!) for sale. From jams and jellies to candies and earrings, you're sure to find something to take home from this table!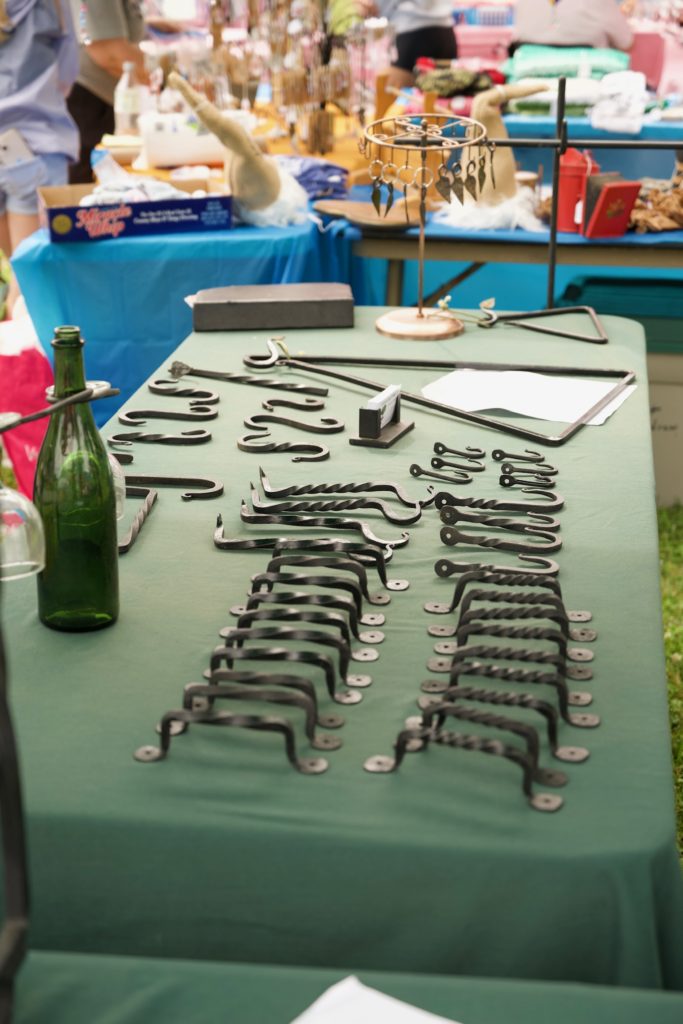 ---
Authors
Nancy Abrams is most famous for her book The Climb from Salt Lick, written about her time in Preston County in the 1970s.
Ann Pancake is a popular local author and WVU professor. Ann has published two short story collections and one novel, Strange as This Weather Has Been.
Bonnie Proudfoot is a fiction writer, a poet, and a glass artist. She is the author of Goshen Road which was longlisted for the 2021 PEN/Hemingway Award for Best Debut Novel.
Thomas H. Williams is a retired teacher and Wesleyan professor who lives in Tunnelton. His novels are set in West Virginia, some during the Civil War and others in modern times. He is the author of six novels, including Greenbrier! Valley of Hope, Into the Mountains, and Backbone Mountain.
---
Art Show
New to the New Deal Festival this year, we will present an Art Show in Center Hall featuring local artists including Kristen Colebank and Jane Michael alongside artists from Arthurdale's collection: Terry Day, Bill Wiles, and Delores Ryan!